1. Become a Member
WOB offers two types of memberships: Corporate and Individual membership.
Applications forms are available at WOB office and can also be downloaded directly from this page.
OR Use our Online Form (Not for Corporates): Apply Online
Individual Membership fee: MVR 100/- (Annual)
Corporate Membership fee: MVR 1,000/- (Annual)
Terms & Conditions Apply.
2. Membership Benefits
Members are Entitled to the Following Benefits:
− 25% Discounts on WOB Events & Workshops.
− CV Development Service.
− Legal & Advisory service.
− Access to WOB Database and details of Board vacancies.
− Discounted offers from selected WOB corporate members & partners.
− Advertise a Board position on the WOB Website and Facebook.
 − Personal Introductions to Corporates.
 − Opportunity to be Profiled by WOB.
− Receive News, General updates and Announcements.
− Opportunity to Represent WOB Internationally
.
3. INTRODUCING CARE CONCEPT : WOB STYLE GOLD MEMBERSHIP
WoB Style Gold Membership embraces an opportunity for a worry free healthy and luxury lifestyle by enabling you to get significant discounts from a total package of service vendors you deal in day to day life.
 .
4. WoB introduces a model of 5C's to increase your potential and empower you to achieve your life goals.
(1) Care for Health & Wellness facilities (Clinic/Dental/Gym/Yoga/Spa/Restaurant /Cafe)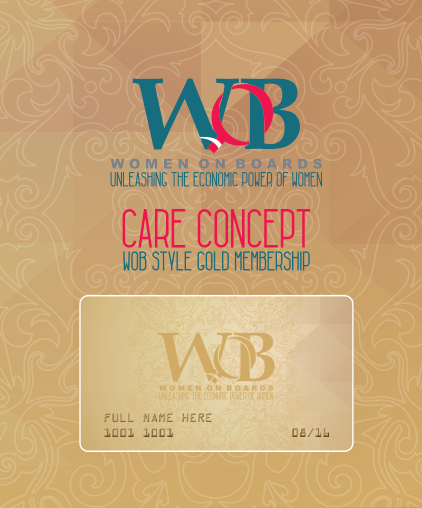 (2) Care for Grooming & Cosmetic Services (Clothing/Makeup & Cosmetics/ Salons)
(3) Care for Home improvement amenities (Furniture & Fittings / Electronic Items/ Gardening etc.)
(4) Care for Daily life saviours (Supermarkets/Bakeries/Grocery Shops)
(5) Care to make you as Leaders of change (Leadership & development training/ workshops/ seminars & conference)